OWAC V - Leaders - In the Kingdom of the Gnolls...*
May
Very tempted to make this Wild Card month and show you that stuff instead, but I guess we've all waited long enough for Royalty to show their face. Well, you'll have to wait a bit longer because there is a lot of other ground to cover here in Leader Month
Let's start here, with the return of a familar face, and his new friend, our Court Wizard. This is the FTG4 Gnoll Chieftain (which I think we saw in with the Clansmen previously) and the C12 Great Goblin Shaman from a couple of years later (still only 1984, mind). I'm not 100% certain, but I feel like the latter was resculpted from (or at least copied from) the former. What do you think?
Waaaaaaaay back in January, I think, I talked about how the Gnoll Gnights were one of the inspirations for the "Royal" aspect of this project. Well, here they are, in all their red and yellow glory:
Five identically posed models, of course. I really, really wanted to convert one into a standard bearer, and perhaps some lancers, but this is one model I couldn't find a broken example of! That said, they all come with horrible excess metal around their face, raised arm and shield (hence the slightly broken-nosed look). I sort of enjoyed the challenge of finding five different heraldic patterns and translating them onto the folds of the caparisons.
Now, I'm not entirely shy of conversions, as you know, so here's one which is big and bold and obvious. The Royal Standard bearer started life as just another Gnoll with (out) hand weapon. I reposed the arm and added the home made standard and pole. The shield is a press moulding of an old Bret (?) one. The grey highlighting of the black boar's head is a bit heavy handed and makes it look a bit wolflike, but still. His helmet is sculpted on with greenstuff (leading me to think that I could have converted more of the unhelmeted models, but it would have been a lot of work. And I'm very lazy.
Well, surely that's enough for one month? What's that? Isn't there a King and Queen to see? No pleasing some people is there...
Here we go then: His Royal Gnollness, King Waleran** (Wally to his friends)
This is King Wally in dismounted mode, showing off the original version of the shield carried by his standard bearer. He is defnitely NOT stood on a box in order to look Royally imposing, how dare you! His axe here is fixed to the base, not his hand, so that he can be moved to his proper place, his Royal Chariot.
This is the FTG13 Gnoll Chieftain's Chariot with just a couple of additions - wheel blades and the long, trailing banner. That's the same standard bearer as ended up in the Huscarls, by the way. The concealed crewman here also appears on the other chariot, so you can look at him (or his double) later.
King Wally is still NOT stood on a box, for those wondering.
Sigh. I suppose you want to see the Gnoll Queen, as well?
Fine. Bit of a gamble this one - she's a MODERN, NON-CITADEL miniature, and heavily converted, at that. No, I don't know what I was thinking, either.
Please be upstanding for Her Royal Gnollness, Queen Boardica***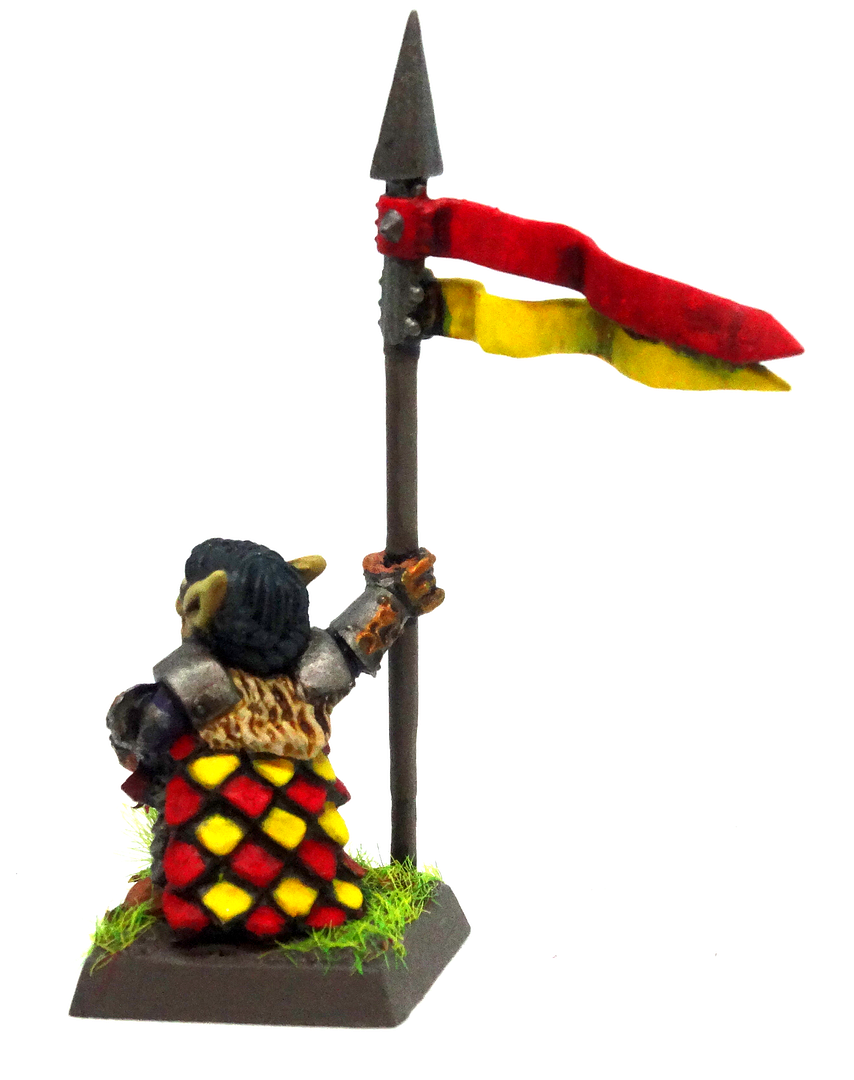 Bonus points for identifying the offending donor model. I've modified her weapon, armour, feet(!) and face - but the eyepatch is original.
Our Queen travelled from a distant tribe in order to capture King Waleran's heart, and thus a share in his kingdom. Rumours that she is stronger, tougher and smarter than her husband are plainly ridiculous (and continually quashed by The Aunts) though it is true that the army, and a lot of other things, are better organised since she took to the throne. And she definitely added those wheel blades to the chariots.
Speaking of which, the second Royal Chariot:
Some different alterations here. The standard bearer (lost to the Huscarls) is replaced with a plain archer. The Queen's lance pennants surfice to announce her presence (and help the King feel superior, for once.) The original driver was missing, so I took the opportunity to further differentiate the chariots by using the driver from a later Goblin chariot. Finally, to accomodate the depth of the Queen's side on stance, I extended the chariot floor with a sheet of balsa wood.
In the second picture, you can see the 4th passenger (which is the same as in the other chariot). As they wear the hooded robes of Night Goblins, I painted them black - it also helps them stand out amidst all the browns. As the Grand Shaman is the only other example in the army, they could also be wizards? Or maybe they are mysterious Gninjas, acting as bodyguards for the Royal Couple? This has gone on long enough, so let's just leave them as Gnolls for gnow...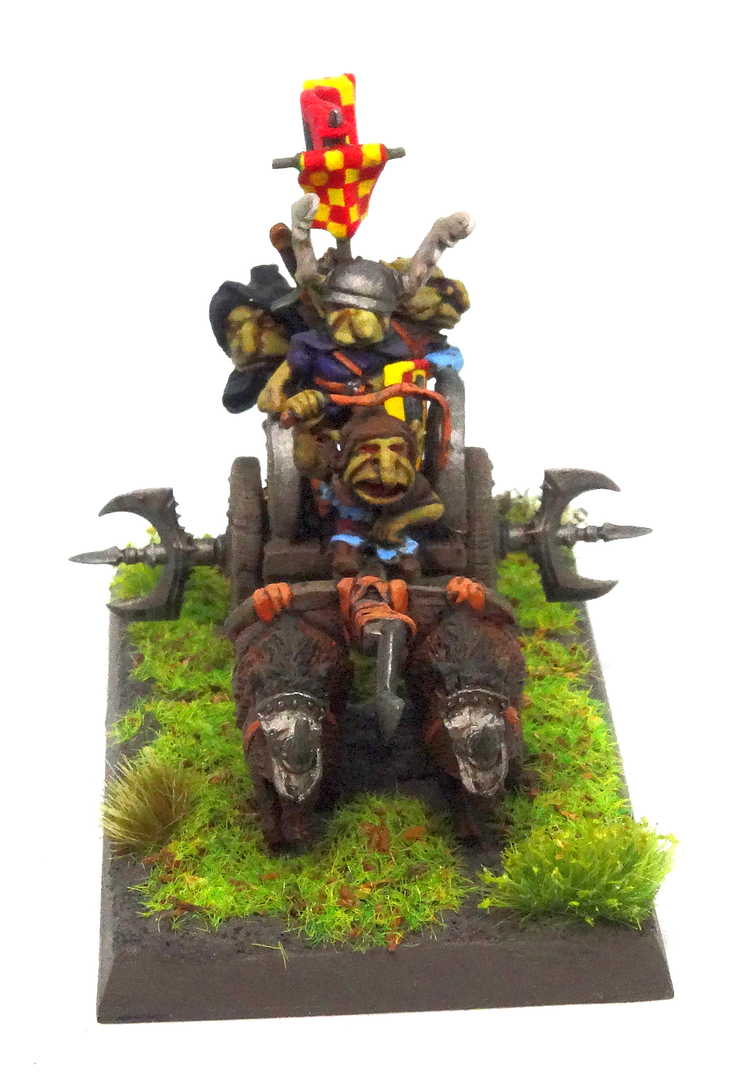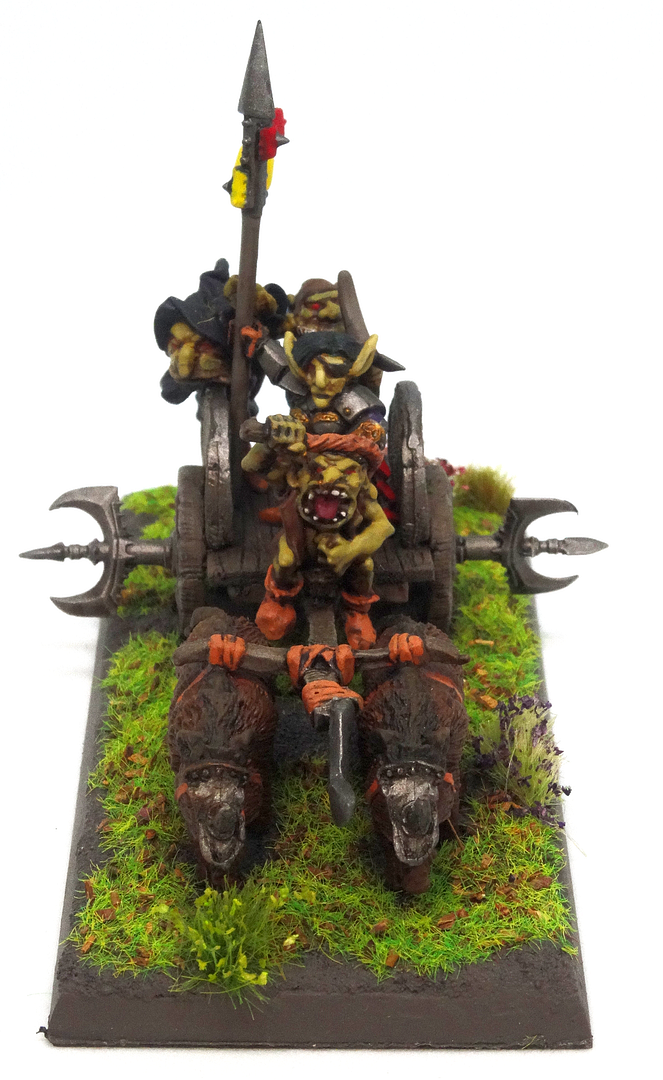 Scores for May: 1068 points (!) 11 models
1 x Gnoll Court Shaman (Level 20 Orc Wizard) 251 points
5 x Gnoll Gnights (Orc Snortas) 235 points
1 x Royal Standard (Level 15 Orc Hero, Lt Arm, Sh, Army Standard) 141 points
King Waleran (Level 20 Orc Hero, Lt Arm, Sh, 2 Hd Wpn) 121 points
Queen Boardica (Level 25 Orc Hero, Hvy Arm, Lance) 148 points
2 x Royal Chariots (2x Bows, Scythed Wheels) 172 points
Running Total: 2779 points 192 models
I haven't checked, but I suspect I need to drop the levels of some of the characters to make the list "legal". I'll worry about that in the July wrap up post, I think
Coming Next: Wild Card month!
* ...the one eyed Gnoll is Queen? Doesn't quite work does it...
** named after the 1st Earl of Worcester. Remember him?
*** NO APOLOGIES!!!